Workshops Available to Groups, Guilds, etc.
The following workshops are available to groups, guilds, etc.  Please let me know if your organization is interested in any of the following workshops.  Click here for workshop specifics.
Length of workshop can be flexible to meet your group's needs.
Click here for information about current Raintree Woods Studio Workshops which are held in Urbana, Illinois.
_______________________________________________________________________
This unique, coloring outside the lines, retreat-like workshop focuses on how the combination of raw edge applique, non-traditional foundation piecing, and mark making, can create more options for your design toolbox.   Content includes using these techniques with the collage method to create a more consistent design style.  Using this method allows you to have greater choices when approaching the design and implementation of an art quilt.  Along with celebrating the imperfect, the organic line, and making mistakes, this method opens up innovative avenues for construction options.   Students will also learn the power of limiting your color palette for materials.  Daily presentations provide a firm foundation of knowledge that can be modified to fit with your own work and vision. Using these three techniques can strengthen your ability to make design decisions with greater clarity.  Students will create several small compositions incorporating these techniques, which can be used to jump start a series.  You will walk away from this retreat workshop with more tools and options for you to use in your work.
All levels
Sewing machine
5 days but workshop can be tailored to your needs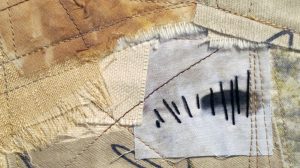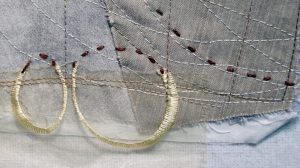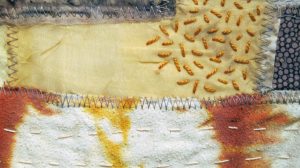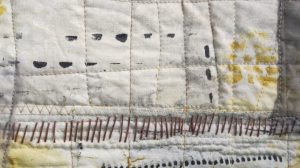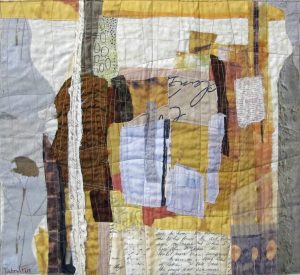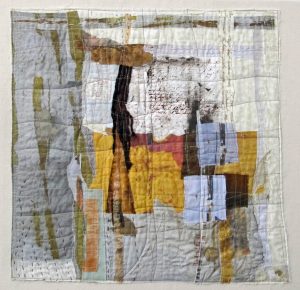 _______________________________________________________________________
Creating the Illusion of Depth in Art Quilts
This technique workshop uses mixed media materials along with fabric to create the illusion of depth in a two-dimensional plane; in our case, a quilt.  Through use of these materials along with principles of design, students will create small studies using these techniques.   Specifically, overlapping, placement, size, value, and focus, will be areas of concentration using the collage approach.  Students will walk away with a better sense of command over creating the illusion of depth on a two-dimensional plane.
Beginner to Advanced
Sewing Machine
5 days but workshop can be tailored to your needs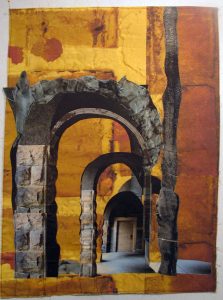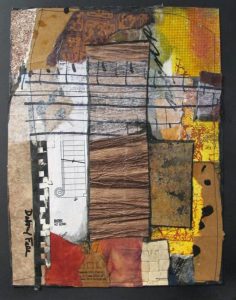 __________________________________________________________
As quilters and artists, having construction options to choose from to bring our designs to completion, allows us to solve problems outside of the box.  This workshop will present construction options while emphasizing the importance of your design voice.  Techniques will be taught so you can create whatever design you desire.  Students are encouraged to bring their design construction problems to class.  Each session opens with a discussion along with direct instruction for piecing techniques.  Sessions are dynamic and include presentations on design, inspiration and using technology as an art tool.  Students will walk away with a variety of skills that offer piecing options to meet diverse design challenges.
Beginner to Advanced
Sewing Machine
5 days but workshop can be tailored to your needs
---
Quilt Your Surroundings with Repurposed Materials
Do you embrace the surrounding environment?  Do you like to recycle materials and create a greener environment?  Do you have a giant stash of fabric that you would like to use up?  If so, then this workshop is for you!   This workshop uses scraps of fabric from other projects along with mixed media elements such as found objects, papers, lovely trash, interesting textures and repurposed clothing.  Students will be taught methods to make this kind of quilt image possible.  Compositional elements will be the focus and daily presentations will cover topics such as design inspiration, finding your voice as an artist and design elements.  Bring in a favorite surroundings photo for a starting point for design.   This fun, collaborative and liberating workshop will have you loving the environment in an entirely new way.  This method will allow your design voice to sing and give you design confidence!
Beginner to Advanced
Sewing Machine
5 days but workshop can be tailored to your needs
---
Collage as a Design Tool in Quilting
Collage–from the French word 'to glue'–is a visual composition made of several pieces.  'To glue' in this context is to stitch fabric elements on top of each other to form a balanced composition. Collage can be a very strong design tool and is an excellent way for an artist to explore their inner voice.  Students will use duck cloth as a base and build from there.  Presentations will focus on how collage can be used effectively to enhance your design skills.   Students are responsible for bringing supplies on the list.  Using a limited amount of materials, 10—20 small design studies will be created using related materials.  Mixed media supplies such as paint, paper, found objects and gel medium will be used to create common elements in the design studies.  These design studies are used to help clarify one's design voice and style.  Techniques using layering, painting and collaging will be taught. Workshop includes a design presentation and demonstrations for mixed media materials.  This three day mixed media play workshop will allow you to step gently out of your comfort zone in a collaborative and supportive environment!
Beginner to Advanced
Sewing Machine
5 days but workshop can be tailored to your needs
________________________________________________
---
Deborah Fell Workshop Requirements:
A contract is required
$700 per day for workshops
Travel expenses to be paid by venue

Airfare if over 150 miles, extra baggage fee,  lodging, food, transfers
I will need to fly out of Champaign, IL airport (CMI)
56¢ per mile for driving
LCD projector, screen & PC platform computer
Please provide distilled water for instructor
Instructor requires 3 tables/2 design walls
For classes needing sewing machines, one table per student, extension cords & access to electrical plugs
If traveling by plane, Bernina sewing machine (with a walking foot) must be provided for teacher use
Lectures Available–$300 per lecture plus travel
Lectures include a power point presentation.

Thank You Edward Hopper

This one hour lecture concentrates on Deborah Fell's art journey–from the beginning in New Hampshire to current day art quilts.  The focus is finding inspiration for your art through your own experiences.

History of Quilting

This one hour lecture focuses on the history of quilting in America.  This can be a longer presentation however the length impacts the price of the lecture.

Gee's Bend

This is an in-depth journey into the significance of Gee's Bend quilts and their place in the art quilt world.

Memorial Quilts

From the pioneer days to the AIDS quilt, this lecture gives a comprehensive view of the varied and moving memorial quilts from the Civil War to present day.

History of Art Quilts

This is an in-depth look at the art quilt movement and its roots.

The Impact of Technology in Quilting

From the Industrial Revolution to the invention of the Square, this lecture focuses on the impact of technology on quilting and the quilting industry.

Dancing on AIR

This lecture traces the steps of Deborah Fell's Artist-in-Residence experience at the Mendocino Art Center.  The focus of the presentation is finding the courage to step outside of your comfort zone.

Renegade Quilts

This lecture takes a comprehensive look at the quilting world from an outsider art perspective.  Renegade quilts include the art quilt, art and healing, Gee's Bend and memorial quilts.
art@deborahfell.com