Workshops Available to Groups, Guilds, etc.
The following workshops are available to groups, guilds, etc.  Please let me know if your organization is interested in any of the following workshops.  Click here for workshop specifics.
Length of workshop can be flexible to meet your group's needs.
Click here for information about current Raintree Woods Studio Workshops which are held in Urbana, Illinois.
_______________________________________________________________________
The Three Sisters:  An Unconventional Approach to Foundation Piecing, Raw Edge Applique & Hand Stitching
Why a trilogy?  The magic of threes comes together with an unconventional approach to foundation piecing, raw edge applique and hand stitching.  Combining these techniques opens a door to the possibility of new approaches to design decisions.  Students will begin by making small compositions, using the combined elements of fabric and art paper. Guidance is provided on how to translate these small compositions into larger scale compositions.  Panel piecing, using muslin as a base, is explored as a manageable option of working with small fabric scraps to create an image.  Approaching hand stitching as a mark making design element, brings the final magic to the trilogy.  Students are provided with direct instruction through demos, presentations and handouts.  Content includes using these techniques with the collage method to create a more consistent design style.  Using this approach allows you to have greater choices when approaching the design and implementation of an art quilt.  Students will also learn the power of limiting your color palette for materials.  Along with celebrating the imperfect, the organic line and making mistakes, this method opens up innovative avenues for construction options.   Imperfection is encouraged.  This workshop will provide more tools and options for you to use in your work.
All levels
Sewing machine
3–5 days but workshop can be tailored to your needs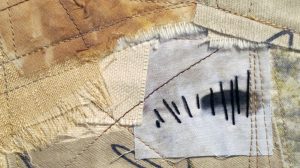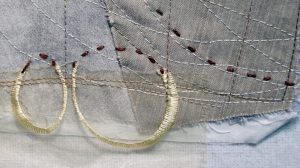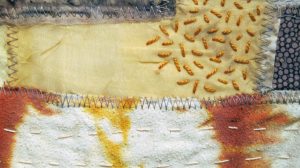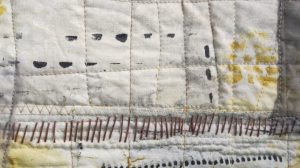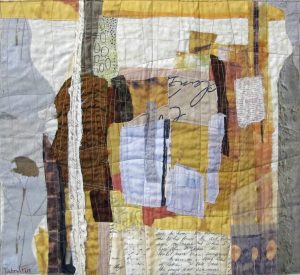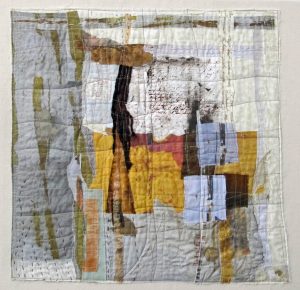 _______________________________________________________________________
Creating the Illusion of Depth in Art Quilts
This technique workshop uses mixed media materials along with fabric to create the illusion of depth in a two-dimensional plane; in our case, a quilt.  Through use of these materials along with principles of design, students will create small studies using these techniques.   Specifically, overlapping, placement, size, value, and focus, will be areas of concentration using the collage approach.  Students will walk away with a better sense of command over creating the illusion of depth on a two-dimensional plane.
Beginner to Advanced
Sewing Machine
5 days but workshop can be tailored to your needs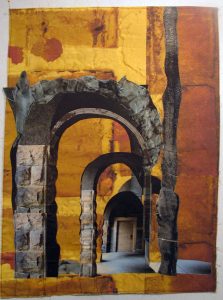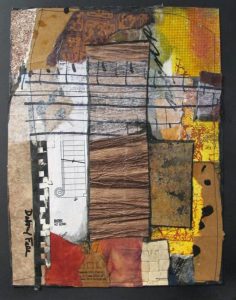 __________________________________________________________
As quilters and artists, having construction options to choose from to bring our designs to completion, allows us to solve problems outside of the box.  This workshop will present construction options while emphasizing the importance of your design voice.  Techniques will be taught so you can create whatever design you desire.  Students are encouraged to bring their design construction problems to class.  Each session opens with a discussion along with direct instruction for piecing techniques.  Sessions are dynamic and include presentations on design, inspiration and using technology as an art tool.  Students will walk away with a variety of skills that offer piecing options to meet diverse design challenges.
Beginner to Advanced
Sewing Machine
5 days but workshop can be tailored to your needs
---
Mixed Media Techniques to Enhance Art Quilts
Using a limited color palette, 3—10 small design studies will be created using related materials.  Mixed media supplies such as paint, paper, found objects and gel medium will be used to create common elements in the design studies.  Techniques using layering, painting and collaging will be taught. Each day opens with a design presentation and demonstrations for mixed media materials.  Students will walk away with a documented sample of techniques in a book form. This mixed media play workshop will allow you to step gently out of your comfort zone in a collaborative and supportive environment!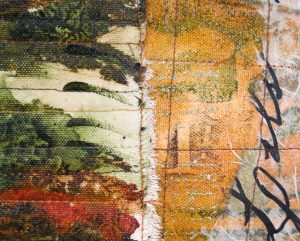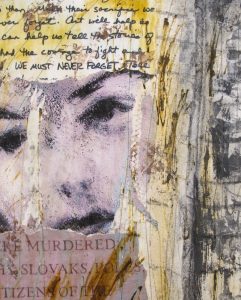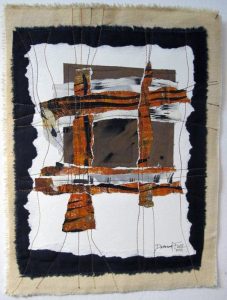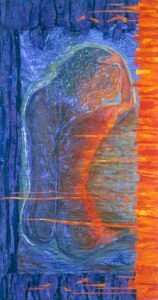 2-3 Days
All levels
No machine
Student Supply List:   
Three colors transparent fluid acrylic paint

Small sizes—we don't need much
Bring 3 or 4 related paint colors of what you have
If you buy paint, I recommend Golden Fluid Acrylics

One bottle Scribbles 3-D black paint (any craft store)
Paint brushes—a variety—bring what you have—cheap chip brushes work well
Acrylic gel medium—at least 8 oz.
Mixed media paper pad

Any other kind of paper you might have in your studio
A large Ziploc bag of misc. such as:

Fabric scraps—edges from squared up quilts, small pieces you might not be able to use for anything else, A few fat quarters of fabric you love that coordinates with your chose 3 paint colors
Lightweight tissue type papers (old wrapping stuff, old sewing patterns….)
Old newspapers, magazine images….
Found objects such as rusty bottle tops, textured paper

Basic paint supplies such as containers, apron, and texture tools…
2 yds. Natural color duck cloth
Small container for water at your table
A few rags or paper towels for clean up
Magic marker—fine point—black
Latex gloves—optional
Stencils/stamps if you have them
Painting tools—outside of the box stuff like toothpicks, old toothbrushes….anything you can create textures with
Glue gun (if you have one)
tacky white glue
any kind of chipboard book/pages that is already a book (to make our reference book regarding techniques)
Scissors
1 canvas pad of paper (if you work fast, bring more)
Strathmore Artist Tiles Pad
Class Kit:
$25
Ephemera
Shared tools & chemicals
Shared supplies
__________________________________________________________________________________________________________________
Choosing the Slow Lane
Our world moves very fast.  This retreat-like workshop focuses on slowing down and relishing in process rather than product.  Supplies needed are minimal and no machine is necessary.  So grab a bag of fabric scraps and your favorite hand sewing tools, and jump on board.  This is not a technique workshop where you learn how to hand stitch.  The focus is on using the stitch line as mark making on cloth.  Part of the workshop content will be studying the Gee's Bend Quilters, along with Boro and Kantha stitching practices.  Students will explore personal mark making preferences along with the power of parallel play in groups.
3-5 days
All levels
Supply List:
Bag of scraps

Bring your own
Another option is to look online & buy a packet of like fabric pieces
Fabric stores often have small packages of like fabric
We do not need yardage
Bring a few fat quarters that read as a solid. Make sure to include light, dark & medium

1 yd. of natural color 7 oz. unprimed canvas duck cloth & 1 yd. of black duck cloth
Sewing tools:

Scissors
Needles that fit your thread
Pearl cotton—size 8 or 12 works well (I don't recommend embroidery floss.)
Needle threader
Needle grabber
Straight pins
_________________________________________________________________________________________________________
Quilt Your Surroundings with Repurposed Materials
Do you embrace the surrounding environment?  Do you like to recycle materials and create a greener environment?  Do you have a giant stash of fabric that you would like to use up?  If so, then this workshop is for you!   This workshop uses scraps of fabric from other projects along with mixed media elements such as found objects, papers, lovely trash, interesting textures and repurposed clothing.  Students will be taught methods to make this kind of quilt image possible.  Compositional elements will be the focus and daily presentations will cover topics such as design inspiration, finding your voice as an artist and design elements.  Bring in a favorite surroundings photo for a starting point for design.   This fun, collaborative and liberating workshop will have you loving the environment in an entirely new way.  This method will allow your design voice to sing and give you design confidence!
Beginner to Advanced
Sewing Machine
5 days but workshop can be tailored to your needs
________________________________________________
---
Deborah Fell Workshop Requirements:
A contract is required
$700 per day for workshops
Travel expenses to be paid by venue

Airfare if over 150 miles, extra baggage fee,  lodging, food, transfers
I will need to fly out of Champaign, IL airport (CMI)
56¢ per mile for driving
LCD projector, screen & PC platform computer
Please provide distilled water for instructor
Instructor requires 3 tables/2 design walls
For classes needing sewing machines, one table per student, extension cords & access to electrical plugs
If traveling by plane, Bernina sewing machine (with a walking foot) must be provided for teacher use
Lectures Available–$300 per lecture plus travel
Lectures include a power point presentation.

Thank You Edward Hopper

This one hour lecture concentrates on Deborah Fell's art journey–from the beginning in New Hampshire to current day art quilts.  The focus is finding inspiration for your art through your own experiences.

History of Quilting

This one hour lecture focuses on the history of quilting in America.  This can be a longer presentation however the length impacts the price of the lecture.

Gee's Bend

This is an in-depth journey into the significance of Gee's Bend quilts and their place in the art quilt world.

Memorial Quilts

From the pioneer days to the AIDS quilt, this lecture gives a comprehensive view of the varied and moving memorial quilts from the Civil War to present day.

History of Art Quilts

This is an in-depth look at the art quilt movement and its roots.

The Impact of Technology in Quilting

From the Industrial Revolution to the invention of the Square, this lecture focuses on the impact of technology on quilting and the quilting industry.

Dancing on AIR

This lecture traces the steps of Deborah Fell's Artist-in-Residence experience at the Mendocino Art Center.  The focus of the presentation is finding the courage to step outside of your comfort zone.

Renegade Quilts

This lecture takes a comprehensive look at the quilting world from an outsider art perspective.  Renegade quilts include the art quilt, art and healing, Gee's Bend and memorial quilts.
art@deborahfell.com