Raintree Woods Studio Workshops Open for Registration
Raintree Woods Studio Workshops are held in Deborah Fell's studio in Urbana, Illinois. Most class size is limited to 4 students. So besides learning in a very supportive environment, students can interact with each other in a small comfortable setting.
The following workshops are now open for registration.  SCROLL DOWN!!!!!!!
 *If a workshop you want to take is not listed here, it is currently not being offered.  Stay tuned or just let me know you want to take that workshop!  
---
Email Deborah to get on the workshop newsletter list–you will get workshop open for registration info.    
art@deborahfell.com
_______________________________________________________________________
 Thursday, Nov. 9, 2017
10 AM–3 PM
Cost:    Class Fee– $125
All levelsDo you embrace the surrounding environment?  Do you like to recycle materials and create a greener environment?  Do you have a ton of itsy bitsy pieces of fabric remnants that you don't know what to do with?   Then this workshop is for you!!!!  This one day, low stress, workshop uses scraps of fabric from other projects along with mixed media elements such as found objects, papers, lovely trash, interesting textures and repurposed clothing.    Bring in a favorite surroundings photo for a starting point for design—this is merely a starting place for inspiration.  You will not replicate the photo but simply use is for a starting place paying attention to its color, shapes, and lines.  Students will walk away from the workshop with an art quilt, along with piecing methods that can be used for many other projects.  The workshop includes a syllabus, a presentation and demonstrations.
Students are responsible for the supply list:

Fabric—narrow down your color choices & try to limit yourself to one color family

1/2 yds. neutral color duck cloth
A bin of scraps, tiny fabric pieces, cut off edges of other projects…
5—6 fat quarters of fabric in the color scheme of your photo—include light, dark, medium & one zinger
Any fabric that you would like to use

5 yds. regular weight Wonder Under or other fusible web
A color photos of your surroundings that inspires you
A sewing machine in good working order
Basic sewing supplies—straight pins, thread, (variegated works well) needles…
Cutting board, rotary cutter, wide ruler
Paper & cloth scissors
Ideas for lovely trash:

If you can sew it down, it is fair game
Handmade paper
Coffee huggers
Look in the scrap book section of a store—you can get great ideas there
_______________________________________________________________________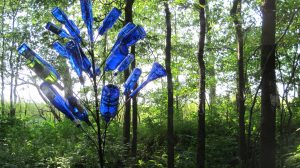 ---
Interested in making a loved one a beautiful patchwork quilt for a loved one?  I can teach you this and all you have to know how to do is do a straight stitch on a sewing machine.  Let me know!  Bring a friend & create your own workshop!
Studio machines available for use.
Any kind of 100% cotton scraps can work for this quilt construction
These quilts make great presents for grandchildren!
The length of the workshop depends on what you want to learn–anywhere from one to five sessions.
What you will accomplish if the session you want is for five days (this can days you pick that work best for you.

You will learn how to piece a quilt top using no rules, no measuring, no matching points
Quilt top can vary in size but I recommend a lap size quilt.
This is a great opportunity to use up fabric you don't know what to do with.
Also great for using up that fabric stash!
Five sessions includes:

Making the quilt top
Adding batting & a backing
Tying the quilt layers together
Sessions are $125 per day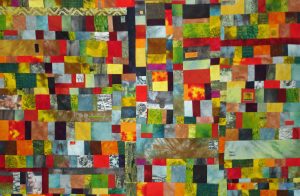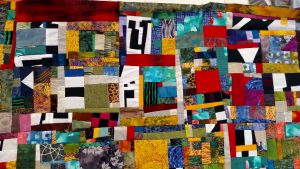 ---
Where is Raintree Woods Studio?
Call Raintree Woods Studio–217-778-1412
Back to main Raintree Woods Studio Page